We're happy that summer's over because fall means harvest season: festivals across the country, giant corn mazes, u-pick apples and pumpkins, Halloween events and of course, the chance to jump in the leaves!
Fall is a great season to get outdoors—and get active—with the kids whenever you can. The climate is perfect, there's the right ratio of visitors to locals, meals that celebrate the harvest bounty, and off season prices to make it truly affordable. With frequent school and work breaks, there's plenty of opportunity to take advantage of resort, tour and airfare discounts.
Remember that wherever you go to celebrate the fall, your family will need a comfortable, spacious place to wind down at the end of a busy day. The All Suites brands by Hilton, which include Embassy Suites, Homewood Suites and Home2 Suites, offer spacious suites from $118 for a weekend escape. BRING IT this fall by booking your getaway at hiltonbringit.com.
So, whether you take a break with the kids or plan a rejuvenating girlfriends' getaway, need a quick staycation, or just want to slip away with your partner for some "we" time, here are our favorite fall getaways, researched together with TakingtheKids.com to tempt you.
Prepare to Have Fun
This fall, we have hurricanes Harvey, Irma and Jose to remind us about the importance of travel insurance. Don't forget that hurricane season will last through November 30th especially if you're headed to a destination that may be impacted. Travel insurance can reimburse your pre-paid, non-refundable expenses if you have to cancel your trip because your airline stops flying for 24 hours due to a natural disaster, or your destination has become uninhabitable. Year round, it can protect your investment if someone gets sick and you have to cancel a trip you've paid for, or if you have to come back early. More information is available at Allianz Travel Insurance.

Having travel insurance makes it easier to relax and stay focused on the important parts of your trip. Photo courtesy Allianz Travel Insurance
Fall Festivals and More Family Fun
September's the time to go apple picking and bring home a few bushels so kids can practice their healthy eating and invent new fruit and vegetable recipes. Hop on a hayride to search for just the right pumpkin in mid-October. It's easy to find a u-pick farm with our directory of orchards and pumpkin patches near you, and usually pretty cheap to make it an overnight adventure.

Speaking of orchards, in California, the Cambria Scarecrow Festival, where hundreds of creative scarecrows designed by townies are on display, runs from October 1-31. It's quite a spectacle: papier mache scarecrow bikers mount their wheels, the scarecrow nuns put on their habits, and the horror scarecrows are hidden away.
In Germany, Oktoberfest family events mean beer and community dinners where kids are always welcome. This year, Munich's Oktoberfest is featuring Tuesdays as official Family Days and there are six new carnival rides to enjoy. Visit their Oktoberfest from September 16-October 3.
Several American towns with German heritage will celebrate along with them, tops among them being Oktoberfest Zinzinnati (September 15-17) which draws 500,000 Samuel Adams fans to Cincinnati for the Running of the Weiners dachshund races
We love the annual National Harvest Festival in Gettysburg, Pennsylvania during the first two weekends in October, and you get two chances to celebrate all things cranberry at Cranfest in Warren, Wisconsin (September 22-24) and at the Cranberry Harvest Fest in Wareham, Massachusetts (October 7-8) where you can take a tour of a cranberry bog.
Beach Getaways Under an Autumn Sun

The Puerto Vallarta International Gourmet Festival is a big draw for foodies from around the world. Photo courtesy #WeVisitVallarta
Mexico, of course, is known for its beautiful beaches. But a visit to Puerto Vallarta on the Pacific Coast can offer so much more, such as an immersion in a different culture with a robust arts, music and food scene. Plan your Mexico visit during a local holiday or annual festival to enjoy the country's cultural traditions and heritage, often at no cost, starting with Viva Mexico! which celebrates Mexican Independence Day on September 15. From October 31-November 2, Dios De Los Muertos honors deceased family members with parades and other celebrations and October 29-31 is the four-day Vallarta-Nayarit Gastronomica culinary festival. Through October 31, families have a chance to win a six-night family vacation to Puerto Vallarta.
For that sunny tropical flavor, nothing beats the Caribbean where you'll find cheaper flights, top resort values and major music festivals. Stay current on the restoration efforts on islands that have been hurricane damaged before planning. If you want more beaches, Bahamas: Nassau and the Paradise Islands offer some of the best in the world as well as cool adventure activities and family-friendly resorts, many discounted until mid-December.
With preschoolers, check out beachfront San Diego and nearby Carlsbad, which boasts LEGOLAND, the San Diego Zoo and Wild Animal Park, and SeaWorld, as well as many wonderful museums. Plan to come in October when San Diego celebrates "Kidvasion" and kids stay and play free throughout San Diego at 100 participating partners.

Clearwater Beach is open and its famous sunsets are on diplay every day, despite some adverse weather that has impacted Florida destinations. Photo courtesy Visit Clearwater
Whether you are looking to just kick back and enjoy the sand and sun, or try the fresh seafood on offer at casual, local eateries, Clearwater Beach in central Florida is open for business. The "Sunsets at Pier 60" daily festival features daytime and nightly shopping, snacking and entertainment, and the Clearwater Marine Aquarium, home of the world-famous Winter the dolphin, is a must-do for the entire family. Get away as a couple or check out the area's tons of family-friendly activities, restaurants, fishing charters and watersports.
Leaf Peeking, Farm Stays and Welcoming Winter
Everyone loves to see the leaves change. Our state-by state directory of leaf peeker hotlines guarantees you'll find the peak colors -- and in states you never even thought of.
With kids, choose leaf peeper road trips within a day's drive of home and break up your trip with plenty of fun stops. Bring zip-loc bags so you can collect different leaf species, nuts and pine cones for art projects; non-toxic Elmer's glue is perfect for scrapbooking flowers, leaves, tourist brochures or any colorful menus you find. Or plan an entire road trip around seeing New England fall colors at their peak.
Girlfriends can catch up during a road trip; end at a spa in Vermont as I did recently, or in Sonoma, California.
There are also many farms around the country to stay, and teach the kids where their food comes from. Visit "learning farms" like the Billings Farm and Museum or Shelburne Farms in Vermont, the Stone Barns Center in New York and Los Poblanos Historic Inn and Organic Farm in Albuquerque, New Mexico. Learn what 18th century farming was like in New York state at the Farmer's Museum in Cooperstown, New York. Check out Farm Stay U.S. for a directory of over 975 working farms and ranches in all 50 states and U.S. territories.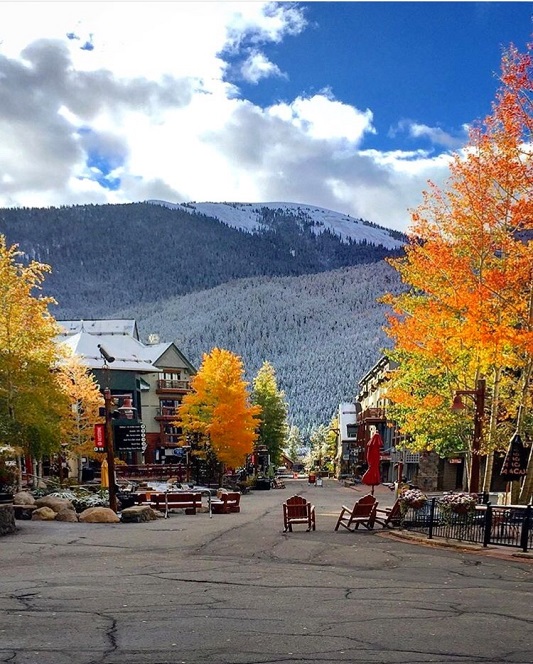 Book now for great early season ski deals and special kids programming at Keystone Resort, Colorado. Photo courtesy Keystone
When the harvest is done, it's time to think about hitting the slopes. Keystone Resort welcomes those seeking winter family adventures as skiing and snowboarding begins for the winter season on Friday, Nov. 10, 2017. The reasons to visit Keystone this winter include on-mountain improvements such as a new, 6-passenger chairlift and expanded indoor seating at the popular Labonte's Smokehouse BBQ. Plus, plan to visit during the new Kidtopia Signature Event Series featuring special family-friendly events in December, February and March, in addition to Kidtopia's free daily programming offered every day of the season. Be sure to book now, as winter savings on lodging accommodations are up to 30 percent off - and as always, kids 12 and younger ski for free with any two night or more stay.
Halloween Fun
Halloween has morphed into one of the year's biggest holiday periods, with families traveling near and far to experience haunted houses, spooky festival and gruesome gourmet delights. Whether you want to parade in your neighborhood, enjoy (suffer through?) an evening of fright at a theme park, go trick or treating at your zoo, or stay at a haunted B&B, there are lots of Halloween options, many close to home and many across the country. These days, celebrations aren't limited to one afternoon or evening or even limited to the month of October.
For example, weeknights in October, make free advance reservations online to see the beautiful New York State Capitol on a "Capitol Hauntings Tour" and meet the ghost of Samuel Abbott, the night watchman who died there in a 1911 fire. This tour has been immortalized with its own Listen with the Lights On podcast.
Many family attractions near you, like the great for toddlers "Boo at the Zoo" in Kansas City, Missouri and the adult geek-chic "Spirits & Skeletons" party at the Houston Museum of Natural Science, Texas, use the holiday to raise funds for their year-round educational missions.
Most zoos and aquariums now have Halloween events and, according to the American Zoo and Aquarium Association, many have become so popular that they require a special ticket. For the brave tweens and teens in your gang, there are approximately 1,500-2,000 Haunted Attractions in the United States and the Haunted Attraction Association notes that every year new "frights" are added.
And there's no greater Halloween action than at theme parks whether you're 4 or 14 or 40:
Both Disney parks kick off the fun in September. Attend Disney World's immensely popular Mickey's Not-So-Scary Halloween Party on certain nights all through September and October thru November 1, and Mickey's Halloween Party at Disneyland from September 20-October 31. They are both bigger than ever before with special fireworks, trick or treats, special foods and more.
SeaWorld's Spooktacular, in Orlando and San Diego from September 23-October 29, and in San Antonio from September 29 to October 29 provides special Halloween shows and the chance for your younger kids to strut their stuff, showing off their costumes while dancing with life-sized, but not-too-scary, sea creatures. It's all in the regular admission price and runs weekend nights.

Howl-O-Scream transforms three Busch Gardens theme parks – in Tampa Bay, Williamsburg and SeaWorld San Antonio — into the ultimate scare adult zone (not suitable for children under 13, so it can be a romantic getaway without kids. Check for exact dates and times). There are spooky haunted houses, terrifying scare zones and elaborate themed shows. During the days, the parks host a costumed array of very family-friendly fare.
Universal Studios' Halloween Horror Nights begin on September 15 in Orlando and Hollywood and last until November 4, and they promise to deliver plenty of scary Halloween frights. The masters of cinematic special effects use both the Orlando and Hollywood theme parks to house bloodthirsty beasts, entertain haunted souls, and allow special ticket guests into way-too-scary haunted houses. Not recommended for anyone under 13 and maybe not even then.
The 18 Six Flags parks put on a Fright Fest like no other under the motto "Family by Day, Fright by Night!" During the day, come in costume for the Spooky Kooky Magic Show and the Monster Maze. After dark, thing heat up, and Fright Fest is not recommended for children under 13. But, send your bravest teens to conquer the ghoulish scare zones, come face-to-face with blood-thirsty creatures, wander through haunted mazes and ride the Voodoo Drop. Fright Fest opens on September 24th and runs weekends through October 31st.
Legoland (in Florida and California) is the place for younger Halloween lovers with themed fireworks, new entertainment, Lego build activities and more, included with park ticket during Brick-or-Treat Party Nights, weekends in October.
Get Smarter: City Getaways and Short Breaks
Once kids go back to school, we can all feel the buzz in the air of America's great cities. If you're into culture and cuisine – or if you're planning campus visits with college-bound teens -- a city escape should be on your autumn to-do list. See more and see it faster with discounted prepaid admission, offered by CityPASS for 12 major cities.

In October, "Dinosaur Train!" based on the popular PBS KIDS TV series, and Halloween fun, come to the Magic House in St. Louis. Photo courtesy The Magic House.
A family visit to St. Louis, Missouri is not complete without time spent at The Magic House, the award-winning children's museum packed with hundreds of interactive exhibits featuring adventure, science, art, music and more. Beginning on October 7, Dinosaur Train! based on the popular PBS KIDS TV series created by The Jim Henson Company, comes to The Magic House and takes kids on a time-traveling adventure to the age of dinosaurs to learn about these extinct but fascinating creatures. The museum's Not-So-Haunted House Halloween event will run during the last two weekends of October.
If you are visiting New York City, the National 9/11 Memorial and Museum is a must stop on all levels. As your kids may have been babies or not even born when 9/11 occurred, the memorial and museum bring it all into vivid context. It is intense, so after you finish you might want to visit the new One World Trade Center Observatory which offers an upbeat, sky-high view of the Big Apple (tickets are required).
If your kids are studying American History, there's no better city to explore than Boston where you can literally walk in the footsteps of the Revolutionary War Patriots on the Freedom Trail, re-enact the Boston Tea Party at the Boston Tea Party Ships & Museum or tour the oldest warship afloat—the USS Constitution. Visit Harvard, the oldest college in the country and the Boston Children's Museum.
While big cities offer plenty, sometimes smaller ones are just the ticket for a long weekend.
Durham, North Carolina has an African-American Heritage Guide to showcase what has always been one of North Carolina's most diverse communities, and is famous for its food scene, outdoor space, artists and music
Albuquerque, New Mexico offers the chance to enjoy the outdoors as well as traditions and experiences rooted in the area's Native American and Hispanic cultures. Nearby, girlfriends and couples should check out Santa Fe with its wonderful galleries, history (it's 400 years old) and over 20 spas to choose from. Annapolis, Maryland, home of the U.S. Naval Academy, offers a First Sunday Arts Festival, the Annual Kunta Kinte Heritage Festival on Saturday, September 23, Historic Hauntings Tours (Fridays and Saturdays in October), and the Oyster Festival on Sunday, October 15.
Campus Visits and College Tours
Ready to hit the town? The college town, that is. Leave the other kids in the family behind and opt for some one-on-one time with your high school junior or senior.
Don't try to cram too many schools into one visit — and certainly no more than two a day. Ask your teen to keep notes or shoot some video on their phone; otherwise, they all start to look the same!
Be sure to mix some local sightseeing in with an admissions office visit so the whole family can get a sense of what's outside the classroom. For example, Ann Arbor, site of the University of Michigan, is home to several terrific museums (two on the university campus are excellent and free of charge), dozens of galleries plus a rich offering of performing arts. If you are a sports enthusiast, you can watch a football game at "the Big House," the largest college stadium in the country. Not to mention dining at Blimpy Burger or touring the Jiffy Mix plant in Chelsea, nearby.
In Northampton, Massachusetts, home to Smith College and the Five College Consortium (Mt. Holyoke, University of Massachusetts, Amherst and Hampshire Colleges), the café scene is one of the best around. Peruse the many shops on Main Street and on the second Friday of the month; check out the free family events at the Smith College Museum of Art. In this quiet corner of the Pioneer Valley where maple and oak line the shores of the Connecticut River, there is great hiking and canoeing when you're done with the campus tours. There are also many motels, hotels and posh New England B&Bs, but UMass housing is one of the best values around and their hotel it serves as a training site for students in the hospitality and tourism management department in the Isenberg School of Management.
Exploring National Parks
Good news - The popular Every Kid in a Park initiative which gives all 4th graders and their families free access to all national park has been extended. Why not use it to explore a park or monument you've always wanted to see and lesser known ones that may be in your neck of the woods?
In the stunning Black Hills of South Dakota you can be among the 30 million people who visit Mount Rushmore annually, and see wildlife in the stark Badlands National Park before the snows come. Nearby, the charms of Rapid City and the buffalo in Custer State Park will round out your visit.

National Park Service rangers bring the Yorktown Battlefield and other historical sites alive with their stories and free tours. Photo courtesy Kyle McCarthy.
Perhaps your passion is history. Visit the Colonial National Historical Park which now has a tech-savvy, interactive American Revolution Museum nearby. Many Williamsburg, Virginia weekends in autumn have special programming themed to Halloween and the Thanksgiving and Christmas holidays.
A visit to Thomas Jefferson's home Monticello in Charlottesville, Virginia is an opportunity to explore the lives of enslaved people who lived on the estate, overseeing the gardens and food. Eileen Ogintz has toured the homes of several presidents, each a fascinating weekend away.
Cruise From A Home Port Nearby
There are 30 home ports in the U.S. to choose from, and you can cruise for a long weekend or a week, whether you want to head to Bermuda from New Jersey, up to Canada from Boston or New York, the Caribbean from Galveston or Florida, or Mexico from California. Check out our family cruise guide to decide what ship is best for your family. Shoulder season deals are everywhere and you might still be able to snare a deal for Thanksgiving or Christmas.
Opt for a cruise instead of a driving trip to see the best of the fall foliage. At this time of year, many of the major cruise lines sail special New England to Canada itineraries, an ideal escape whether you're looking for an adult getaway, a babymoon, or you'll bring preschoolers.
Aboard Disney Cruise Line you'll find a nursery at sea, all of the characters and princesses your kids want to meet, and first-rate programming, including for Halloween this year.
If you want to spend time with your young adults, or for a couples or girlfriend getaway, consider exploring Scottish heritage, touring a whiskey distillery and trying to sight the Loch Ness Monster aboard a Windstar Cruise from Edinburgh to Dublin.
Families with Special Challenges Have Options
If you thought you couldn't travel because someone in your family has special needs, think again. Several recreational groups design different outdoors programs for children with special challenges and their families. Summer programs such as kayaking and hiking continue through fall and, thanks to the work of so many volunteers, fees are usually on a sliding scale to accommodate a family's budget.
Virginia Beach celebrates the 44rd Neptune Festival September 29-October 1, starting at the bronze King Neptune statue and continuing down the boardwalk with music, seafood treats, games, stained glass and ceramics vendors and more. October 8 marks their fundraiser for JT Grommet Park, which offers surfing lessons to the disabled, works with Wounded Warriors, and provides recreational activities for those with ALS.
In historic Janesville, Wisconsin, the Camden Playground in Palmer Park is a fully accessible funland with a wading pool, set among 164 acres of trails. Everyone in the family will like this cute town's free, wheelchair accessible weekend Historic Walking Tours which morph into eerie Cemetery Tours in October.
Autism on the Seas helps arrange vacations on land and sea for families with Autism, Asperger's Syndrome and other developmental disabilities. Most of the major theme parks make accommodations for those with disabilities. If you're coping with dietary needs or food allergies, Family Travel Forum's guide to Dining at Theme Parks shows you allergen-free alternatives.
Travel Sustainably, Volunteer Your Skills
There's no better time to plan how your family can incorporate social good into your next travel adventure, and it's easy. During September, you can help feed others with the Dine Out for No Kid Hungry campaign which is collecting donations from more than 15,000 nationwide restaurants. Or, involve the kids in leaving a gratuity, small gift or personalized "Thank You" for a hotel or restaurant worker you meet in your travels. The non-profit Pack for a Purpose has great tips on their website on what to bring and how to pack it, so that your host destination gets the most benefit from your charity.
All 417 National Park Service sites will have free entrance on National Public Lands Day, September 30. In past years, more than 200,000 people have participated in the country's largest, single-day volunteer effort for public land, and 2,500 projects are being planned for this year. Note that volunteers will receive a voucher that permits them into a national park free on another day.
Dozens of not-for-profit organizations, beginning with your local church or kids' school, help organize international travel with volunteer opportunities.
We look forward to hearing your stories!
Wherever you see ads or images within this special FamilyTravelConsulting.com travel section, the advertising and custom content has been brought to you by our sponsors. All other content and opinions are based upon the authors' actual travel experience and knowledge.